As a whole fishing is the most popular sport in the world with millions of people taking part daily. You shouldn't be surprised then at how popular carp fishing is in the UK. If you have recently being thinking about taking up carp fishing as a hobby then you have come to the right place.
Here at TheCarpPlaice we are carp mad and love spreading the word to as many people as possible in the hope that they too take up the wonderful hobby.
However, getting started as a carp angler is slightly more complicated than you may at first thin., There is so much equipment and tackle needed that it can easily overwhelm a beginner and potentially put them off before they even get started.
In this guide we will be going over the basic gear that you need to get you started. I will also be covering some simple setup's to get you on the bank side and hopefully landing your very first carp.
Carp Fishing For Beginners
First Things First Get A Rod License
The first thing you need to do if you are to take up carp fishing is to get yourself a rod fishing license.
When fishing you must always have your license with you or you run the potential risk of receiving a fine up to £2500. Considering a 2 rod license will only set you back £30 and a 3 rod license £45 annualy it is definitely worth the small investment.
If you are under 13 years of age then you don't need a license. In addition if you are between 13 and 16 a rod fishing license is free.
Here is a link to where you can obtain a rod license.
Where Can You Fish For Carp
There are literally hundreds of lakes in the UK where you can go fishing for carp.
There is an art to carp fishing and it can take a while to master the basics. As a beginner I would recommend that you start off with a small lake as this will increase the chances of you landing your very first carp.
In my guide to day ticket carp lakes there are well over 100 lakes included in there in England and I have personally fished at many of them.
Essential Beginner Carp Fishing Equipment
A common mistake many beginners make when they are starting out is thinking that they need to buy one of every piece of carp equipment there is. This is simply not the case and I would advise any beginner to buy the basics, gain some experience and build up their gear slowly as they learn.
It is a wise idea to start off with simple and affordable gear as the best tackle can be very expensive. you don't want to spend a few thousand pounds on all of your gear to then realise that carp fishing isn't for you.
---
Rod
Along with a reel a carp fishing rod is arguably the most important piece of equipment, you aren't exactly going to catch anything without one.
There are plenty of brands to choose from and the price of a rod can be anything from as low as £50 up to £600 for the very best ones.
For more information on carp rods you can check out my guide which has everything you need to know about buying one.
For beginners though there are plenty of rods that offer a good mix of both quality and affordability. Below you can find a few of the rods that I recommend for beginners.
Daiwa Black Widow Carp Fishing Rod
---
Reel
Just as important as a rod you are of course going to have to invest in a reel. As a beginner any experienced carp angler will tell you to first buy a baitrunner reel and not a big pit reel.
Why?
Big pit reels are designed to hold a lot of line and with the suggestion that beginners should start out on relatively small lakes, there really isn't the need to have a reel that holds so much line. This of course leaves you with the option of a baitrunner. Baitrunners allow the fish to be able to take the bait and run with it before it gets hooked. They hold less line and are far more suitable for someone who is getting to know the in's and out's of a carp fishing reel.
Shimano are the originators of the original baitrunners and are considered the best brand.
Shimano Baitrunner ST 2500 4000 FB Reel
---
Line
Once you have your rod and reel sorted you can think about buying some line. Choosing fishing line is a very important part of your setup an it is paramount that you buy the right one. A good fish line will allow you to cast without any problems and have a good line lay.  For beginners I would recommend a fishing line with a breaking strain of about 15 to 20 lbs.
Fox Exocet Carp Fishing Mono Line
To find out more about carp fishing line you can read my full guide here.
---
Rigs
For many one of the hardest things to get to grips with when just getting started with carp fishing is tying a rig. In short a rig is the way you tie the bait to the end of your line and there are many different methods to do so.
Experienced carp anglers will tell you that the hair rig is the most commonly used rig and probably the best one for a beginner to learn to tie first.
To make a rig you are going to have to tie a hooklink from your main line to the hook itself. Most carp anglers will advise you to use a braided hooklink as it's strong, abrasion resistant, knots well and can present a bait over any type of bottom.
The next thing you are going to need to buy is a hook. For this I would recommend a wide gape eye pattern due to its versatility as it can be used with many other rigs.
As a beginner you may not at first fancy tying your own rigs. If this is the case then you can always buy ready tied rigs until you feel comfortable tying your own.
Fox Edges Barbless Wide Gape Carp Fishing Rigs
---
Bite Alarms
Bite alarms are an essential piece of carp fishing equipment for increasing the amount of fish you catch. They alert you to the fact that a carp has taken the bait by giving off a high-pitch sound.
There are many different bite alarms to choose from and the price can vary from as low as £20 for budget models to the high-end alarms costing £150 plus. These premium alarms have additional features that you may feel the need for when night fishing and aren't really essential for those that are just testing the waters with carp fishing.
For more information check out my bite alarm buying guide
Here are my recommended bite alarms for beginner carp anglers.
Hirisi Tackle Carp Fishing Bite Alarm
NGT Carp Fishing Wireless Alarm
---
Bobbins
Bobbins are used in combination with your bite alarms and are another piece of gear used to detect when you have a bite. Bite alarms are great for when a carp takes the bait and swims away from your rod. However, bobbins are used to register what is known as 'drop backs' this is when the bait is taken but the fish is swimming towards you and your rod. When this happens the fishing line will go slack and the bobbins will lower which in turn sets off your bite alarms.
You can read my guide on choosing carp bobbins here.
---
Rod Support
The difference between carp fishing and other types of fishing is that you don't hold your rod while waiting for a bite. Instead you will set your rods up on either a rod pod or bank sticks .
Personally, I prefer a good rod pod as they are very sturdy and although there isn't much difference they are slightly easier to set up than bank sticks.
Rod pods can cost anything from £20 to more than a £100.
For more on rod pods be sure to check ojut my complete guide to choosing a rod pod.
---
Landing Net
When you have eventually won the battle with the carp you have managed to hook and reeled it in to the waters edge you are going to need a good landing net to safely take it out of the water.
There are plenty to choose from and most vary in price from about £20 to £40. They also come in a wide variety of sizes but many will tell you that a 42″ landing net is a good size. These are capable of netting large carp in a safe manor. A good tip is to choose one with flotation devises so that you can leave it in the water at all times saving you from wresting with your rod in one hand and the net in the other.
This landing net by NGT offers a good mix of both quality and affordability.
---
Unhooking Mat
The health and safety of carp is very important and when you have finally brought your catch to land it is essential that you remove the hook while trying not to cause the fish any harm.
The best and most safe way to do this is with a good unhooking mat, carp cradle or cot. Each of these makes it far safer to remove the hook than doing it on the bank would alone would. The type you go for is a matter of personal preference and budget.
Below you can find my beginner recommendations for unhooking mats, carp cradles and cots.
Unhooking Mat –
Unhooking Cradle –
Unhooking Cot –
---
Bait
When it comes to deciding what type of bait to use for carp fishing you really do have a lot of choice to choose from. However, the most popular type of bait these days are boilies.
You can of course make your own boilies, which is something you may want to do in the future. However, in terms of convenience it is far easier to buy them.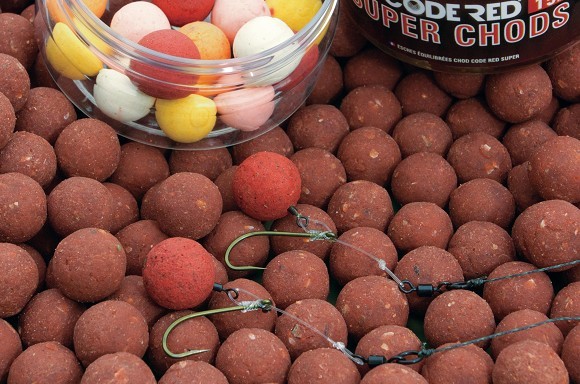 Boilies can be used for both baiting the patch of water you are fishing and for baiting your hook. Personally, I prefer to use what are known as "pop up" boliles as they float on the water. This makes them easier to see and cretaes less of a chance that your hook will get caught in reeds etc.
You can read my full guide on bait companies to find out which boilies are considered the best.
Below you can find some of the boilies that I recommend.
Devour Baits Bloodworm Oozing Pop Up Boilies
Sticky Baits The Krill – Shelf Life Boilies
---
Get Comfortable While Carp Fishing
Carp fishing is very much a waiting game and one that requires patience and for that reason it is adviseable that you get yourslef as comfortable as possible while waiting for a bite. Depending on whether you are day or night fishing there is plenty of equipment to invest in to make your fishing experience more comfortable.
---
Fishing Chair
Sometimes it can take hours to get a bite and during the waiting period you will want to ensure you are very comfortable. If you intend to do most of your fishing during the day it is highly recommended that you invest in a good fishing chair.
Fishing chairs are really affordable and the comfort they offer is well worth the small expense. In my guide on carp fishing chairs you will find everything you need to know about choosing the right one.
Below you can find the chairs I recommend for beginners.
---
Fishing Umbrella
It is inevitable that it is going to rain at some point while you are out fishing for carp. This doesn't mean that you have to pack up your gear and call it a day. With a decent fishing umbrella you will be able to protect yourself from the worst of the weather and continue fishing in relative comfort.
A good fishing umbrella will set you back about £30 to £40 and have side panels to offer almost complete protection.
To find out more about choosing a good quality umbrella for carp fishing you can read my complete guide on brolly systems.
---
Bivvy
A bivvy is the fishing equivelant of a tent and is most commonly used on fishing trips that last well in to the night or  even longer trips of a few days.
They can be used for sleeping and as a general shelter from the worst weather.
There are a wide range of different bivvy's to choose from with plenty of well-known brands producing them.
A good quality bivvy will last for many years and if you are going to invest in one I would recommend that you don't shy away from spending a decent amount of money on one. A good one will keep you warm and comfortable giving you somewhere to relax while waiting for a bite.
To find out more information on choosing a bivvy and which ones I think are the best check out my complete guide to choosing a bivvy.
Below you can find a handful of bivvy's that I would recommend for someone who is just getting started with carp fishing and not looking to spend too much.
---
Bedchair
Another essential piece of kit for when night fishing is a bedchair. A bedchair will go a long way to providing comfort while waiting for a bite and is well worth the investment.
Similar to a bivvy I would recommend that you invest in a good quality one from a brand with a good reputation.
Below are a couple of bedchairs that I recommend.
For more information on choosing a best chair my guide on choosing a bedchair has everything you need to know.
---
Sleeping Bag
A sleeping bag is another must have bit of kit for comfort and warmth, especially during the colder months. There are plenty of sleeping bags to choose from with some designed specifically for summer and others for winter. When buying it is worth checking out the season rating of the sleeping bag. This is indicated in the description and will say if the bag is a 2,3,4 or 5 season sleeping bag. A 5 season sleeping bag can be used all year round and will keep you significantly warmer than a 2 season one.
---
Additional Carp Fishing Equipment
Rucksack
A rucksack is essential for keeping all of your tackle and smaller carp fishing equipment nice and organized. A carp fishing rucksack is designed in a way that helps you to be able to access these items without having to empty the whole rucksack.
When choosing a rucksack be sure to buy one that has plenty of pockets and if possible one that opens up to allow you access to everything inside.
A good rucksack will set you back about £80 but there are some very good ones for beginners that cost about £50.
For more information on carp rucksacks and what to look out for when buying one be sure to check out my complete guide to choosing a carp rucksack.
---
Carp Barrow
Now that you have bought all of your tackle you may have realised that there is an awful lot of it for you to take with you when you go fishing. Transporting it all to your swim can sometimes be a long process as many carp lakes don't have close access for vehicles, which often means a long trek and a lot of going back and forth to your car to get all of your gear.
The best way to counter this laborious part of carp fishing is by investing in a good carp barrow or trolley. A carp barrow is similar to a wheelbarrow but is specifically designed for transporting your fishing tackle from your vehicle to the lake. A trolley is similar to a barrow but is significantly smaller.
There are plenty of barrows and trolleys to choose from and it is possible to pick up a good quality and sturdy model without having to spend too much.
For more on carp barrows be sure to check out my guide to choosing a barrow for carp fishing.
---
Guide To Getting Started
Baiting The Swim
Now that you have all of your carp fishing equipment and are on the bankside with your hook baited, its time to start baiting the swim.
The aim of baiting the swim is to give the carp a little encouragement to take your hook bait. This is done by strategically throwing bait where you intend to fish.
This can be done with a number of methods. These include simply throwing bait in with your hands to using a catapult or even a bait boat. As a beginner I would suggest using the first two methods as a bait boat is more of a luxury item for a carp angler.
It is worth mentioning that not all lakes allow the use of bait boats. This is another reason why I would suggest using your hands or a catapult.
The Hunter Pro Fishing Catapult is an affordable catapult that does the job nicely.
Carp Fishing Casting
Final Words